1
« Ostatnia wiadomość wysłana przez Orionid dnia Dzisiaj o 09:22 »
Tropical thunderstorms are set to grow stronger as the world warms
October 16, 2017
A supercell thunderstorm in the US state of Oklahoma. Hamish Ramsay, Author provided
(...)
Stormy forecast
My research, carried out with US colleagues and
published today in Proceedings of the National Academy of Sciences
, does just that. We examined changes in the energy available to thunderstorms across the tropics and subtropics in 12 global climate models under a "business as usual" scenario for greenhouse gas emissions.
In every model, days with high values of CAPE grew more frequent, and CAPE values rose in response to global warming. This was the case for almost every region of the tropics and subtropics.
These simulations predict that this century will bring a marked increase in the frequency of conditions that favour severe thunderstorms, unless greenhouse emissions can be significantly reduced.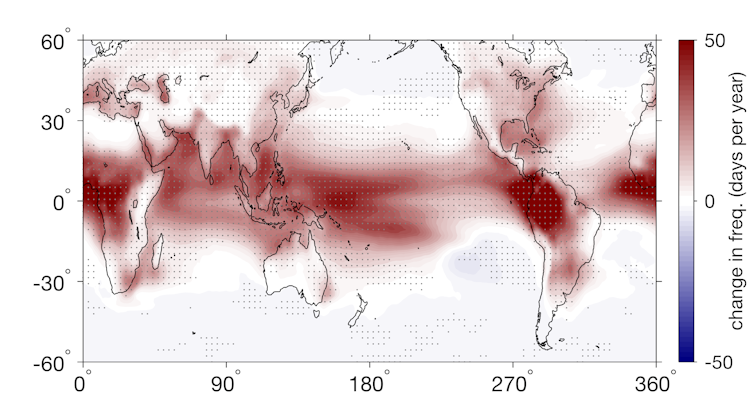 Change in frequency (in days per year) of favourable conditions for severe thunderstorms for 2081-2100, compared with 1981-2000 averaged across 12 climate models under the RCP8.5 greenhouse-gas concentration scenario. Stippling indicates regions where 11 of the 12 models agree on the sign of the change. CREDIT, Author provided

https://theconversation.com/tropical-thunderstorms-are-set-to-grow-stronger-as-the-world-warms-85745