Ostatnie wiadomości
1
« Ostatnia wiadomość wysłana przez wini dnia Dzisiaj o 08:14 »
Aktualności:


2
« Ostatnia wiadomość wysłana przez astropl dnia Dzisiaj o 07:16 »

STYCZEŃ 2019

10 17:11:05 Xichang 2 CZ-3B/G2 Zhongxing-2D
11 15:31:33 Vandenberg 4E Falcon-9R Iridium-NEXT x 10


15 00:30 Semnan 2 Simorgh Payam-e Amirkabir


18 00:50:20 Kagoshima M Epsilon RAPIS-1, RISESAT, ALE-1, MicroDragon,
OrigamiSat-1, Aoba VELOX-IV, NEXUS
19 19:10 Vandenberg 6 Delta-4H NRO L-71 (Imp. Crystal Block 5 #1)
21 05:42:21 Jiuquan CZ-11 Jilin Lincao-1, Jilin Lincao-2,
Lingque-1A, Xiaoxiang-1 03
24 18:07 Sriharikota F PSLV-DL Microsat-R, Kalamsat v2

LUTY 2018

05 21:01 Kourou 3 Ariane-5ECA HS4-SGS1, GSAT-31


05 ??:?? Semnan 1 Safir-1B Dousti


21 16:47 Bajkonur 31/6 Sojuz-2.1b/Fregat-M EgyptSat-A
22 01:45 Canaveral 40 Falcon-9R PSN-6, Beresheet, S5
27 21:37:00 Kourou ELS Sojuz-ST-B/Fregat-M OneWeb x 6, makieta x 4

MARZEC 2018

02 07:49:03 KSC 39A Falcon-9R Dragon 2 DM-1
09 16:28:05 Xichang XZ-3B/G2 Zhongxing-6C
14 19:14:08 Bajkonur 1/5 Sojuz-FG Sojuz MS-12
16 00:26 Canaveral 37B Delta-4M+(5,4) WGS-10
22 01:50:35 Kourou Z Vega PRISMA


__________________________________________________________________________________________


24 22:30-02:30 Onenui 1 Electron/Curie R3D2
25 ??:?? Jiuquan OS-M1 Lingque-1B
30 ~16:30 Xichang CZ-3C Tianlian-2
?? ??:?? Jiuquan Kuaizhou-1A ?
?? ??:?? Plesieck 43/4 Sojuz-2.1b/Fregat-M Kosmos (Uragan-M)
?? ??:?? Plesieck 43/4 Sojuz-2.1a/Fregat-M Kosmos (Meridian)
?? ??:?? Plesieck 43/4 Sojuz-2.1a/Fregat-M Kosmos (Nejtron)
?? ??:?? Plesieck 43/4 Sojuz-2.1a Kosmos (Bars-M)

3
« Ostatnia wiadomość wysłana przez TomIR dnia Dzisiaj o 06:43 »
Kto wie
. 2736 urosła do naprawdę imponujących rozmiarów. Szkoda tylko, że jest już tak blisko krawędzi tarczy
.
4
« Ostatnia wiadomość wysłana przez Orionid dnia Dzisiaj o 06:20 »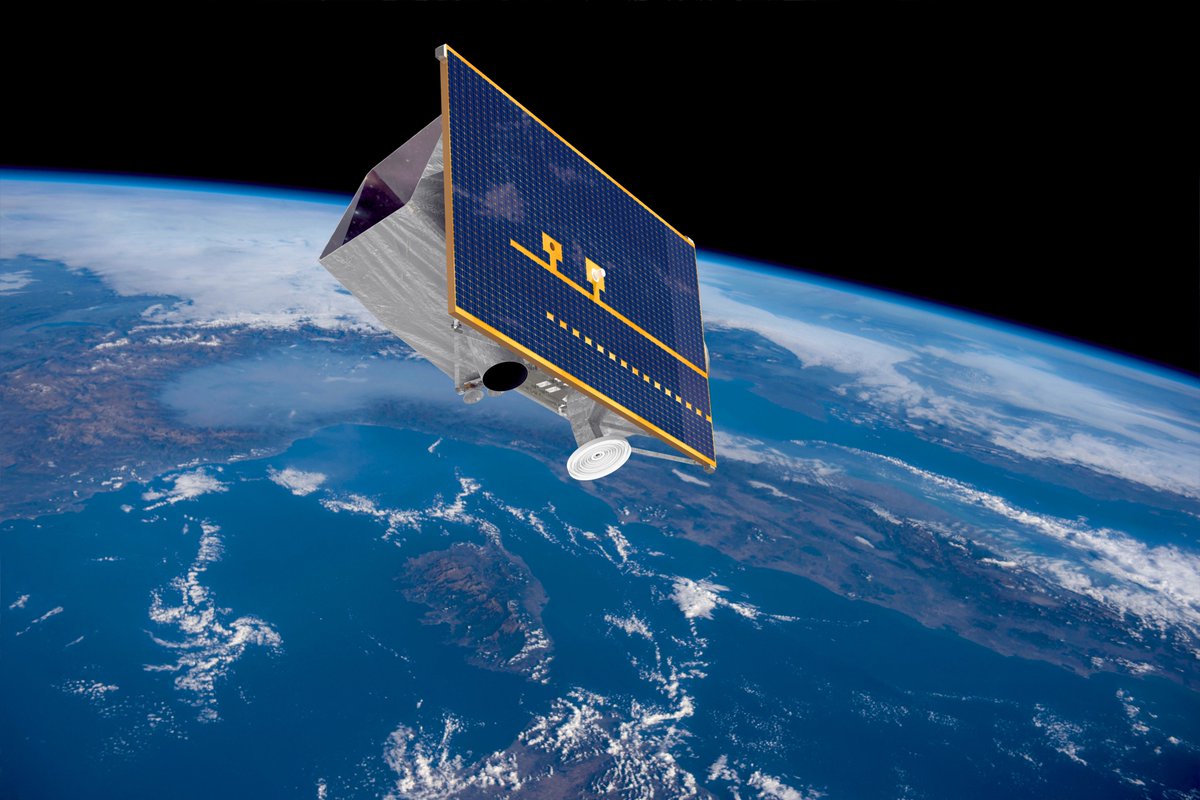 https://directory.eoportal.org/web/eoportal/satellite-missions/p/prisma-hyperspectral
https://www.youtube.com/watch?v=dFqzETM4XvY
https://www.youtube.com/watch?v=XzGy8xVlENo
Arianespace's Vega success with PRISMA in numbers: 3 + 14 + 308 = 600!
March 21, 2019
Vega begins its ascent from the Spaceport in French Guiana, carrying Italy's PRISMA Earth observation satellite on the third Arianespace mission of 2019.
Arianespace's third mission of 2019 – which marked the Vega rocket's 14th consecutive success – orbited the Italian PRISMA Earth observation satellite tonight, bringing the total number of spacecraft lofted by the launch services company to 600. It was the 308th flight overall of an Arianespace launcher.
The assembled Vega launcher for Arianespace Flight VV14 is shown at the Spaceport. The light-lift vehicle is protected by a mobile gantry which will be rolled back prior to the liftoff on March 21.
Vega deployed its payload into Sun-synchronous orbit during a 54-minute mission performed from the Spaceport in French Guiana. The PRISMA satellite had an estimated liftoff mass of 879 kg., with the Vega launcher delivering a total payload lift performance of 953.5 kg. – which included integration and deployment system hardware.
PRISMA (PRecursore IperSpettrale della Missione Applicativa) was produced for the Italian ASI space agency by OHB Italia as prime contractor, with Leonardo responsible for the Earth observation system. Operating from low Earth orbit, the satellite is designed to provide major applications for protection of the planet and for Italy's national environmental safety. It is equipped with a state-of-the-art electro-optical instrument with a medium-resolution camera and an innovative hyperspectral sensor. Once operational, PRISMA will provide data for environmental monitoring, resources management, the identification and classification of crops, the fight against pollution and other uses.
The 70th Earth observation payload launched by Arianespace
Designated Flight VV14 in Arianespace's launcher system numbering system, tonight's mission underscored the company's role in deploying Earth observation satellites, as PRISMA was the 70th spacecraft orbited by the company for this type of application.
"There was no better way for Vega to start the year 2019 than with this 14th success in a row…congratulations to all!" said Luce Fabreguettes, Arianespace's Executive Vice President – Missions, Operations & Purchasing. "The PRISMA satellite is fully in accordance with Arianespace's motto: Space at the service of a better life on Earth."
It was highly appropriate that PRISMA was orbited by Vega for Italy, as this lightweight launch vehicle is delivered for launch to Arianespace by Italian production prime contractor AVIO.
Flight VV14 followed Arianespace's two previous year-opening successes in 2019: the first, performed on February 5, utilized a heavy-lift Ariane 5 to place the Saudi Geostationary Satellite 1/Hellas Sat 4 and GSAT-31 communications relay platforms into geostationary transfer orbit; while the second employed a medium-lift Soyuz vehicle on February 27 to deploy the first six satellites into a circular low Earth orbit for the OneWeb communications constellation.
After tonight's Flight VV14, preparations continue for Arianespace's next mission – Flight VS22 – which will use a Soyuz launcher to orbit four additional satellites for the SES-owned O3b satellite constellation. Flight VS22 is scheduled for April 4 from the Spaceport.
http://www.arianespace.com/mission-update/arianespaces-vega-success-with-prisma-in-numbers-3-14-308-600/
http://www.arianespace.com/mission-update/arianespaces-first-vega-mission-of-2019-is-approved-for-liftoff-with-prisma/
Arianespace Vega launches Italian imaging satellite
by Caleb Henry — March 21, 2019
An Arianespace Vega lifts off March 21, completing the rocket's 14th successful flight. Credit: Arianespace video still.
WASHINGTON — European launch provider Arianespace conducted its third launch of the year March 21, orbiting a remote-sensing satellite for the Italian Space Agency on a Vega rocket.
Vega, Arianespace's light-lift vehicle, took off from Europe's spaceport in Kourou, French Guiana at 9:50 p.m. Eastern. PRISMA, the PRecursore IperSpettrale della Missione Applicativa satellite, separated from the rocket 54 minutes later.
The launch is the first of four Vega missions planned for this year. If none are delayed, it will be the highest number of Vega launches in a single year since the rocket's introduction in 2012.
PRISMA was originally scheduled to launch in 2018, but delays with the European Space Agency's Aeolus wind-mapping satellite, which also called for a Vega launch,
pushed PRISMA into 2019
.
ASI, the Italian space agency, assembled a roster of Italian companies to execute the PRISMA mission.
OHB Italia built the 879-kilogram satellite with Italian aerospace and defense company Leonardo, which supplied the electro-optical payload, solar panels and power supply unit.
Thales Alenia Space, a joint venture between Paris-based Thales Group and Leonardo, supplied PRISMA's onboard data transmission system.
Data acquisition and processing will take place at Telespazio's Matera Space Centre.
OHB Italia was also responsible for arranging the launch, for which it choose the Italian-led Vega rocket built by Avio.
PRISMA carries what the Italian space agency called the "most powerful operative hyperspectral instrument in the world." The satellite's imaging payload is designed to see in 239 spectral bands, plus panchromatically.
PRISMA has a design life of five years, not counting in-orbit commissioning. Christiano Contini, PRISMA mission director at OHB Italia, said the satellite's commissioning is expected to take three months.
ASI said the satellite will be used to study environmental behavior, including climate change and other human-influenced changes. ASI said such data will be applicable to a wide range of activities, from natural disaster prevention to pollution monitoring, disaster response and agriculture.
The satellite will operate in a 615-kilometer sun-synchronous orbit.
Luce Fabreguettes, Arianespace's executive vice president of missions, operations and purchasing, said in post-launch remarks that Arianespace's next launch will take place April 4. The company will use a Soyuz rocket to launch four O3b satellites for SES, expanding the medium Earth orbit system to 20 satellites.
https://spacenews.com/arianespace-vega-launches-italian-imaging-satellite/
Some statistics on today's flight:
14th Vega launch
1st Vega launch of 2019
3rd launch from Guiana Space Center in 2019
39th launch from the ELA-1/SLV launch pad
25th OHB-built satellite launched by Arianespace
3rd ASI (Italian space agency) satellite launched by Arianespace
308th Arianespace mission
PRISMA separation! The 1,937-pound (879-kilogram) hyperspectral imaging satellite is on a mission to collect environmental data for the Italian government.
https://spaceflightnow.com/2019/03/21/vega-vv14-mission-status-center/
https://spaceflightnow.com/2019/03/21/vega-launch-timeline-with-prisma/
https://www.nasaspaceflight.com/2019/03/vega-italys-prisma-earth-observation-satellite/
https://space.skyrocket.de/doc_sdat/prisma_asi.htm
5
« Ostatnia wiadomość wysłana przez Orionid dnia Dzisiaj o 05:21 »
Photos: Delta 4 rocket blasts off from Cape Canaveral
March 20, 2019 Stephen Clark
Credit: Walter Scriptunas II / Spaceflight Now
Credit: United Launch Alliance
Credit: United Launch Alliance
https://spaceflightnow.com/2019/03/20/photos-delta-4-rocket-blasts-off-from-cape-canaveral/
6
« Ostatnia wiadomość wysłana przez Orionid dnia Dzisiaj o 05:10 »
Więcej pytań niż odpowiedzi
A Prehistoric Puzzle in the Kuiper Belt
March 18, 2019
NASA's New Horizons Team Unravels the Many Mysteries of Ultima Thule
(...) Runyon and fellow team geologists are describing and trying to understand Ultima Thule's many surface features, from bright spots and patches, to hills and troughs, to craters and pits. The craters, while at first glance look like impact craters, could have other origins. Some may be pit craters, where material drains into underground cracks, or a result of sublimation, where ice went directly from solid to gas and left pits in its place. The largest depression is a 5-mile-wide (8-kilometer-wide) feature the team has nicknamed Maryland crater. It could be an impact crater, or it could have formed in one of the other above-mentioned ways. (...)
http://pluto.jhuapl.edu/News-Center/News-Article.php?page=20190318
https://phys.org/news/2019-03-horizons-team-unravels-mysteries-ultima.html
7
« Ostatnia wiadomość wysłana przez station dnia Dzisiaj o 00:24 »
Sporo? Bez przesady, popatrz sobie na lądownik, otaczające go niewielkie kratery i wreszcie położenie z początku lutego oraz z końca. Wygląda to na maksymalnie 30 metrów w lini prostej patrząc od lądownika.....
8
« Ostatnia wiadomość wysłana przez suchyy dnia Wczoraj o 22:18 »
Właśnie rozpoczyna się okres widocznych wieczorem przelotów ISS nad Polską. Czy można spodziewać się spektakularnych widoków, szczególnie w kontekście ISS + "gość"? Poniżej plan przelotów ISS dla mojej miejscowości (Lublin), wygenerowany na HeavensAbove (widoczne przeloty od 21-03 do 7-04).




9
« Ostatnia wiadomość wysłana przez Orionid dnia Wczoraj o 21:37 »
Bliski przelot 2019 FA (16.03.2019)
BY KRZYSZTOF KANAWKA ON 21 MARCA 2019 UKŁ. SŁONECZNY
(...) Moment przelotu meteoroidu 2019 FA nastąpił 16 marca z maksymalnym zbliżeniem około godziny 02:15 CET. W tym momencie obiekt znalazł się w odległości około 231 tysięcy kilometrów od Ziemi. Odpowiada to 0,60 średniego dystansu do Księżyca. 2019 EN2 ma szacowaną średnicę około 7 metrów.
Jest to
14
bliski (wykryty) przelot planetoidy lub meteoroidu w 2019 roku. (...)
https://kosmonauta.net/2019/03/bliski-przelot-2019-fa-16-03-2019/
Asteroid 2019 FA flew past Earth at 0.60 LD
Posted by Teo Blašković on March 18, 2019 at 14:09 UTC
A newly discovered asteroid flew past our planet at 0.60 LD / 0.00154 AU (230 380 km / 143 141 miles) on March 16, 2019. This is the 12th asteroid to flyby Earth within 1 lunar distance since the start of the year, including 2019 EA expected to fly past us on March 22.
Asteroid 2019 FA was first observed at Tokyo-Kiso about 12 hours after it made a close approach to Earth.
The object belongs to the Apollo group of asteroids and has an estimated diameter between 4.8 and 11 m (15.7 - 36 feet).
It flew past us at 01:14 UTC at a speed (relative to the Earth) of 6.04 km/s.
https://watchers.news/2019/03/18/asteroid-2019-fa/
10
« Ostatnia wiadomość wysłana przez mss dnia Wczoraj o 21:19 »
https://www.nasa.gov/press-release/astronaut-kathryn-kay-hire-retires-from-nasa
March 21, 2019
RELEASE J19-004
Astronaut Kathryn (Kay) Hire Retires from NASA

After a 30-year career with NASA, Astronaut Kay Hire retired from the agency on Feb. 28.

Hire joined the NASA team in 1989 where she worked as a space shuttle orbiter mechanical systems engineer, test project engineer, and supervisor of space shuttle orbiter mechanical systems and launch pad access swing arms at Kennedy Space Center. Hire processed space shuttles from landing through ground preparations and launch countdowns for more than 40 missions.

"Kay has had an extensive career both at NASA and in the military. We are thankful for her 30-year career with NASA and the contributions that she has made to the space program," said Chief Astronaut Pat Forrester.

Hire reported to the Johnson Space Center in 1995 as a member of Astronaut Group 15, becoming the first astronaut selected from the Kennedy Space Center workforce. She flew to space for the first time as a mission specialist aboard Space Shuttle Columbia for the 16-day Spacelab Neurolab mission, STS-90, in 1998. The seven-member crew played both the role of experiment subjects and operators for 26 life science experiments focused on the effects of microgravity on the brain and central nervous system.

Hire flew to space on a second mission aboard Space Shuttle Endeavour for STS-130 in 2010 to help assemble the International Space Station. Hire and her crewmates delivered and outfitted Node 3, also known as the Tranquility module, and the Cupola, a seven-windowed portal for the space station which has been a focal point of the station since installation. As a mission specialist, Hire operated the robotic arms, led the transfer of 4,500 pounds of cargo, and helped install water recycling, air cleaning and cooling, and crew exercise equipment in Node 3 and cupola.

Between her space flights, Hire supported missions in various roles including Capsule Communicator (CAPCOM) in mission control, Astronaut Support Personnel where she strapped crew members into the space shuttle orbiter for launch, and management astronaut in which she helped develop procedures for commercial spacecraft carrying cargo to the International Space Station.

Hire also spent time at NASA Wallops Flight Facility and NASA Goddard Space Flight Center where she was chief liaison to the Department of Defense.

Originally from Mobile, Alabama, Hire graduated from the U. S. Naval Academy, and was designated a Naval Flight Officer. She conducted worldwide airborne oceanographic research missions, flying to 25 countries.

In 1993, Hire became the first woman in the U. S. military to be assigned to a combat air crew, when she reported to Patrol Squadron Sixty-Two (VP-62) to fly the P-3 maritime patrol aircraft. Hire served in multiple leadership roles throughout her Navy career, spanning operational missions as well as research and development of new technologies. She served in the Navy a total of 35 years and achieved the rank of Navy Captain.

Hire logged more than 3,400 flight hours in various aircraft, and more than 711 hours in space.

Find Hire's complete biography at:

https://www.jsc.nasa.gov/Bios/htmlbios/hire.html